Learning how to romanticize your life will enhance your day-to-day. This is vital to living an elegant life because it's about seeing your day, not as something to rush through but to add pleasure.
In this article, you will:
embrace every day
incorporate elegance
know how to begin romanticizing your life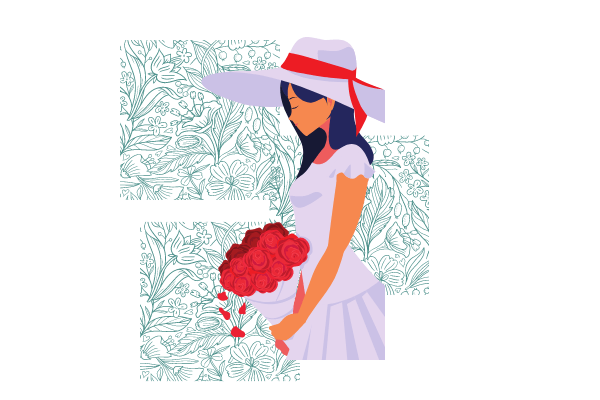 ---
How to Romanticize Your Life: How to Romanticize Yourself Every Day
It's a common misconception that only those who are lucky in love get to experience romance in their lives. However, this doesn't have to be the case. You can create your own romantic life by doing things like setting aside time for yourself, taking yourself on dates, and filling your home with beautiful things. Here are a few tips to help you get started.
How do I Begin How to Romanticize My Life?
Romance is all about getting creative, so start thinking of ways to fill your life with romance. It's about getting excited to try something different.
It's up to you to make your own life as beautiful as possible-so get started today!
Here are a few ideas:
Set aside time for yourself – Take time out of your day to do something you enjoy. For example, set aside time in your schedule just for going for a walk or reading a book.
Make a list of things that inspire you – Spend some time thinking about the things that inspire you-whether it is flowers, music, or anything else. Then make sure these inspirations are reflected throughout your life, whether you post them in your room or incorporate them into your outfits. This can jumpstart understanding your elegance goals.
Set up a date with yourself – Make plans for a night when no one else will be with you-be it going to see an art exhibit, trying out a new restaurant in the area, or just curling up at home for a romantic evening.
Add beautiful things to your home – The best way to romanticize your life is by bringing beauty into your surroundings. This can be done with flowers or other little touches that will bring about a romantic mood in your space.
What does it mean to "romanticize my own life?"
"Romanticizing your own life" simply means making yourself the focus of the romance rather than looking for it elsewhere. Do what makes YOU happy and watch your life transform into something beautiful.
You Have to Start Romantacizing your Life Today
Adventures for One
After a busy day, sometimes the best thing you can do to relax is to plan an adventure just for yourself. Even if it's something as simple as going on a nature hike or having coffee at your favorite café, setting aside time for yourself and doing things that make you happy can change your perspective and bring you closer to inner peace.
Enjoying the Moment for Pleasure Rather Then Rushing Through it For
It's easy to get caught up in our daily lives and constantly prioritize the future, but sometimes it's important to take time out of your busy schedule and enjoy yourself. Whether you like watching TV, reading a book, or spending time at home with your furry friend, taking the opportunity to appreciate the little things is an integral part of enjoying life.
Do something because you truly love it! Not because it is something that you think you need to do. Seeing it all as an opportunity to feel joy.
Fill Your Home with Beauty
If you want to enjoy your elegant life, it is important that you fill it with beauty. Fill your home with paintings, lovely scents, and fresh flowers. This will not only cause every aspect of life to feel more enjoyable but it will also give you the opportunity to spoil yourself occasionally!
Have Time for Yourself
It is important that you have a few hours to yourself each week. Whether it's going to the movies, having a picnic, or just sleeping in on a Saturday morning, taking time out of your day to do something for yourself will help promote inner peace and happiness.
Take Yourself on a Date
Every classy woman deserves to go on date and be treated like a queen. Remind yourself of this and make the time each week to take yourself on a date. Even if it just means going out for coffee, spending an hour with yourself is important because it helps you discover who you truly are!
Romanticizing the Everyday
Take time to appreciate the little things in your everyday life. It can be anything from taking a moment each morning to admire your favorite mug to making a special point of cooking yourself a delicious meal or taking a luxurious bubble bath every night after work. Even if you just do these things for a few days, you'll start to notice how your perspective changes and your appreciation for life grows.
Make it More Beautiful
Making the effort to romanticize your life with little things can have a major effect on your overall happiness. It doesn't take much to set the mood! From setting out fresh flowers in your bedroom to lighting that favorite scented candle, small choices go a long way towards living a better life.
Related: Why is Elegance Attractive
Creating a Special Space
Bringing things into your home that make you feel beautiful can help make you feel more beautiful. It doesn't have to be anything major-you can decorate by adding flowers or lighting candles, or you can collect trinkets that make you smile. You can even paint or draw pictures on the walls, as long as it makes you happy, you'll feel more at home in whatever space it is that you choose to make your own.
Create a Sensual Morning Routine
Your morning routine is important because it sets the tone for the rest of your day. One of the most sensual things you can do is to take a luxurious bath each morning while listening to some calming music. Not only will this help start your day off on a good note, but it'll also relax you and make you feel more at peace with the world. You can take this a step further by adding some scented oils or other special bath products, and if you're feeling really adventurous, you can even bring a few candles into the bathroom with you!
Don't miss an Opportunity to Make it Your Day
You can add a little sparkle to your day by making special efforts here and there. For example, if you're going grocery shopping, you could choose to pick up something that's on sale in the hopes of surprising the world later with a nice meal. Not only will it make your life more beautiful but it will also help out other people that you care about.
Give Back to Others
While doing things for yourself is a very important part of enjoying your life, it is also important to give back to others whenever possible. Maybe you could take a few minutes out of your day to send a card or letter to someone who has supported you in the past, or perhaps you could bring a cup of coffee to someone who is working late. It's often the small gestures that make the biggest difference in lives-so take time each day to do something special for someone else!
Some people think it isn't possible, but I am living proof that you can enjoy your life and live romantically even if you aren't in a relationship with someone else. All it takes is a little creativity and effort-so get started today!
Is Romanticizing Your Life Bad?
No, romanticizing your life is not bad! In fact, it can have a very positive effect on your overall happiness which will make you feel more beautiful. Romanticizing the everyday little things in your life can help change your overall perspective and even help you appreciate what it is that you already have.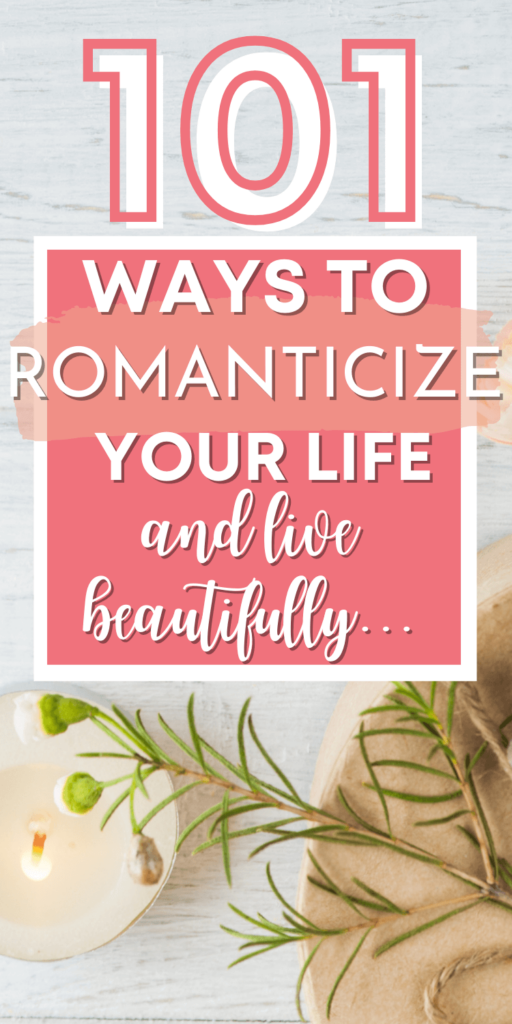 101 Ways How to Romanticize Your Life
1. Take a moment to be grateful for your life and all of the beautiful people in it.
2. Find something you love about yourself and focus on that today!
3. Take time out of your day to do something for someone else, it will help make both you and them feel good!
4. Make a list of all the things you love about yourself and the people in your life.
5. Make time for something that makes you feel like a kid again: playing with bubbles in the bathtub, coloring in coloring books, or watching your favorite cartoons from when you were little.
6. Practice living in the moment-don't let small things get in the way of experiencing something amazing.
7. Write your partner a little love letter and place it somewhere they will find it while you're not there.
8. Commit random acts of kindness, t can be anything from helping out a stranger on the street to holding the door open for an elderly man at the grocery store.
9. Surround yourself with things you love.
10. Cook your favorite meal for dinner tonight, and take your time eating it. Whether you are alone or with others.
11. Spend the day out of the house, take a drive to somewhere new, or go exploring in your own town!
12. Smile at strangers, it's a great way to brighten someone's day!
13. Feed the birds from your window or from your backyard! Getting up close to nature is a perfect way to feel connected to the earth.
14. Have a dance party-turn up the music and let yourself go!
15. Create a list of everything you'd like to do before you die, and start crossing them off one by one.
16. Treat yourself to a spa treatment, whether it's giving yourself a facial, getting your hair done, or having someone come up with you and give you a massage.
17. Try something new around the house that will make your life more beautiful like planting flowers in your yard or adding some cozy throw pillows to your bed!
18. Take a moment to put on your favorite outfit and have a dance party in the mirror!
19. Create your own sacred space-like an indoor garden, a music box, or a little meditation nook for yourself.
20. Get outside and enjoy nature as much as possible, it will do wonders for your soul!
21. Write yourself a positive affirmation that you can repeat often.
22. Create a list of things that make you feel loved, and add to it each time you do one!
23. Keep an inspiration board filled with pictures and words that inspire you and give you strength.
24. Spend a whole day doing things for yourself!
25. Be more sentimental.
26. Try going to bed ten minutes earlier each night this week and wake up ten minutes earlier each morning. This will give you more time to start your day with positive thoughts and make the most of every moment!
27. Put together a playlist that makes you feel your absolute best.
28. Make yourself a cup of hot chocolate or tea before bed-it's a great way to relax and unwind after a long day and make this moment feel luxurious.
29. Spend the day in your favorite dress.
30. Take time for yourself today, allow yourself to go slow, and relish in the pleasures of the moment.
31. Light some candles in the evening.
32. Make the next day you have plans with friends or family about reconnecting with them instead of stressing about it!
33. Make yourself your favorite comfort food, and savor every bite of it.
34. Treat yourself at least once a day to something you truly enjoy.
35. Think deeply about the root of all the anxieties you have throughout your day, then try to come up with a way to let them go and live more in the moment.
36. Re-arrange your living room and home decor to reflect your personality and taste!
37. Take a nap or read a good book for at least an hour today, you deserve it!
38. Go for a walk around the block and take time to appreciate all of nature's beauty. Even if you live in the city, there are still glimpses of nature. Or daydream about living somewhere in the country if that is what you would love.
39. Remember perfectly happy endings can be found in everyday life!
40. Never underestimate yourself or your own capabilities-you are as strong as anyone you know, and you deserve the world!
41. Make a list of things that make you feel like a strong, capable woman-like getting up early to start your day or having time to relax and read even when it feels impossible.
42. Use this as an opportunity to give yourself some self-love by doing something small like putting on your favorite perfume.
43. Leave time at the end of your day for gratitude, whether it's writing down things you are grateful for or listing them out in your head.
44. Never assume that you are too busy to do something good for yourself! If you ask someone if they'd like to help with something they'll be more than happy to pitch in.
45. Make a list of all the qualities you look for in a romantic partner and start working on those qualities within yourself!
46. Go on an adventure today, and don't forget to snap some pictures along the way!
47. Give yourself permission to be imperfectly human-to make mistakes, to not know everything right away, to not respond the way you think you should.
48. Take yourself on a date to your favorite restaurant or cafe!
49. Don't forget that romance is something anyone can bring into their life! Give yourself permission to make your own fairy tale come true too.
50. Spend some time thinking about all of the things you would love to see in your life.
51. Create a vision board with pictures that represent everything you want in life-romance, adventure, family, fun-and put it somewhere where you will see it every day.
52. Invite friends over for an evening of food and laughter; don't be afraid to let yourself feel a little silly!
53. Use the good dishes that you only save for "good occasions".
54. Declutter one area of your home or office today-it can be easy to feel overwhelmed by clutter!
55. Spend some time journaling about what makes you feel truly loved and beautiful.
56. Register for classes at your local community college-take the first step towards pursuing something that will bring you joy, whether it's learning to paint or finally admitting you always wanted to try fencing!
57. Find one thing that makes you laugh today, and give yourself a good chuckle.
58. Think about the things that make your life feel luxurious-maybe it's a warm bath or maybe it's having time to read before bed-and then think about how to incorporate those into your everyday life!
59. Spend some time today dreaming about what kind of world you want to live in-what does your perfect world look like?
60. Take time today to read an old favorite book or watch a movie you've seen dozens of times before but can always enjoy because it makes you feel good.
61. Really listen when someone is speaking with you, be fully present and engaged with the person you are with.
62. Give yourself permission to go outside without makeup or to wear something that doesn't suit your mood (within reason).
63. Treat yourself to some skincare products-you're worth it! And don't forget about your feet, hands, and hair too!
64. Try on a new outfit, even if it doesn't seem like your style or that you would normally wear-how do you feel when you put it on?
65. Think about what would make today amazing and try to do one thing towards making it happen!
66. Appreciate the things that make your life magical; maybe it's a tree in your yard that's flowering or one of your favorite songs on the radio.
67. Today, take a moment to daydream about how you'd like things to be and then take action!
68. Stop and smell the roses today- literally.
69. Even if it seems small, every act of self-care is a positive one.
70. Learn to let go of things that aren't working in your life and don't contribute to a beautiful future for yourself, whether it's an old job, an unhealthy relationship or something else you know isn't good for you.
71. Think about what makes you feel calm and relaxed and then see if you can do those things today.
72. Do something that makes you feel beautiful.
73. Fill your home with beautiful things -vintage items, art, nature-whatever makes you feel inspired!
74. Get off the internet for a day or two and switch off your phone.
75. Reflect on how far you have come in life, even if it doesn't seem very much or very far.
76. Be generous and kind to strangers. But also to yourself.
77. Practice the art of making something at home. Whether it's food, a great cup of tea, or coffee. But feel that you are really good at something.
78. Look at old photos of yourself! What kind of person did you want to be when you were younger?
79. Take a few moments to ask yourself how your life is going. What needs attention? How can you make it better?
80. Find the time and space to spend an afternoon with a good book or magazine-perhaps one that has beautiful pictures inside!
81. Prioritize your happiness.
82. Think about what you would do if money wasn't an issue for you-be as imaginative as possible!
83. When was the last time you did something new? Make today the day to learn something new or try something different!
84. Start a new hobby.
85. Think about something you've always wanted to do but perhaps hesitated to do for whatever reason-why not try it out today?
86. Practice self-care when it comes to your mental health.
87. Think about what makes you feel beautiful and remind yourself that you are beautiful!
88. Today, try one new recipe for dinner or a dessert – but use ingredients that make you feel good in order to create something that's good for your body!
89. Think about someone you admire and then take a few moments to think about what made them special or inspirational in your eyes.
90. Look through old photo albums to remind yourself of the really happy times you've had!
91. Be an artist. Create something beautiful. You don't need to be skilled or trained – it's about expressing yourself.
92. Go for a bike ride. There's something so exciting about propelling your body so fast with your own legs.
93. What are some things people have complimented you on? Write them down somewhere that you can see them often so that you remember how amazing you are!
94. Tell yourself that you're beautiful and cut yourself some slack when it comes to things you aren't good at right now. They'll come with time, but for now, just focus on being kind to yourself!
95. What do your favorite quotations say about who you are? Buy a nice notebook and write them all down.
96. Try and spend some time relaxing outside today – whether it's in a garden, by the water, or simply on your porch or balcony with a cup of tea!
97. Stop comparing yourself to others and their success, looks, etc. You are you and that is beautiful!
98. Find something to do and donate your time and skills to it.
99. Take a moment to think about all the good things about yourself-take some time to brag on yourself today!
100. Learn something new every day, even if it's just one thing.
101. Think about something positive that you can do to help someone else today, whether it's your family, friends, or complete strangers!
How to Romanticize Your Life: Start Today
Your life does not have to be devoid of romance simply because you are single. There are lots of ways to make your own world beautiful, so get started today! Don't let anyone ever treat you less than the amazing person that you are. You deserve to live a life full of beauty and happiness-so go out there and do it! Living life as an elegant woman, it is important that you see how you can make each day something special. You don't need anyone else to make you feel this wonderful.
When you are single, it can feel like your life is lacking romance. You might long for a significant other to go on adventures with or just spend quiet evenings at home cuddling on the couch. Instead of waiting around for someone else to provide these things, why not take matters into your own hands?
Start loving yourself deeply now. It's so vital that you genuinely love yourself as you are.
How to Romanticize Your Life: How to Romanticize Yourself Every Day