Being classy on social media has the same rules to follow as in the real world.
Always be kind, and unlike when you might get frustrated and say something that might you might regret, when you say it on social media, it's most likely going to be there forever. If it is unbecoming of you – then it could always come back to hurt you later.
It's best to think of long term and never do or say anything that you wouldn't do in person.
Being classy stems down to making others feel better and happy and better about themselves. If you have nothing wonderful to say – then you probably should hold back.
Some links here are affiliate links, which mean that when you click and purchase from them, I make a little compensation at no additional cost to you.
Social Media can be Slippery
That is the very idea that makes it so dangerous because it is fast, needs no editing or images and can because people can be rather impulsive to respond to other tweets, some people will say things that they wish they could take back. This is rule number 1! Never be impulsive!
Don't tweet anything that could be misconstrued. What is best advice here is to just say nice things or something that doesn't need a debate. Respond with utter kindness and only think positive here. It's tempting to let people know how you feel, but what happens is that there is a lot of anger on Twitter. With people who are searching this out, it can lead to being sucked into a fight that you really didn't need.
Not only is being classy on social media about being polite and respectable on these platforms but the by product of being classy means that you usually don't get stuck in a time warp with other people.
If you're looking at wanting to get rid of your social media, check out this book that has been mentioned in "The Social Dilemma"
Social Media Etiquette – helps to not waste your time
Being classy on social media means not to waste so much time on them. There is so much better more constructive things to do with your time and being stuck in a fight or reading gossipy comments will not make you feel any better. If anything, once you're done after being stuck down this rabbit hole you'll be disappointed that you spent hours on something that showed you nothing.
Being classy on social media is a great place to start being classy in your life. Since many women spend so much time on there, it's easier to begin there and it will start to spill over.
Don't feel the need to be on every social platform either. This truly will waste your time. By narrowing yourself down to only one or two platforms you might start to get the "fear of missing out" sensation but this will fade. It's better for your self-esteem, your time and your over all well being!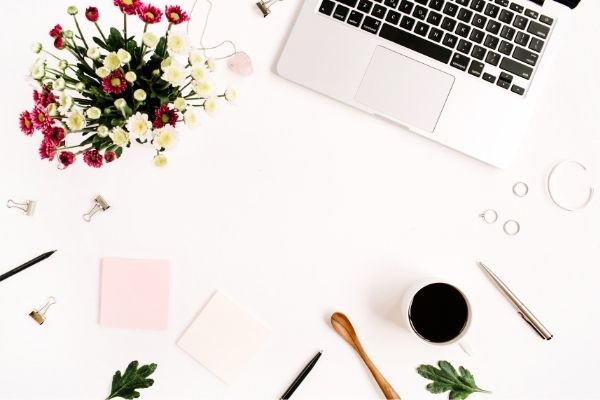 How Social Media can Make you Classy
It sounds counterproductive, but it doesn't need to be!
Hang out where other classy woman are present (like here!). This can give you the most wonderful community you otherwise lack because of where you live or who you are around. Classy and elegant women around the world can meet up and feel inspired, how wonderful!
Social media has the benefits of showing you other parts of the world or other ideas that you wouldn't have thought of. Sometimes Pinterest, as distracting as it can be, it can be a wonderful resource for inspiration and getting to see how to improve areas of your life. Such as clutter, or where you are renovating a room or your wardrobe and need some good real inspiration.
Fallbacks of being on Pinterest and living a classy life:
Everything can seem amazing and easy but in reality it can be very difficult to find. It is tempting to throw out everything you own and try to emulate what you see on pinterest.
Since you are looking at so many different people and their pins, it's easy to want to try to be perfect just like ALL those images when one person might have the perfect wardrobe but then their house isn't ideal. But when you are looking up perfect skirt and perfect kitchen and perfect hair. Well you can see how that is problematic. Just remember that perfection isn't real.
Social Media is Not all Bad – Keep it Classy
Or you can get into Facebook groups and if you aren't in the right ones, it can get a little out of hand. There seems to be a lot of hatred that stems from opposing opinions which can really hurt oneself. It's understandable that you are not taking anything serioulsy on here, but honestly, it's veyr hard to not and most people will take that feeling with them where they go afterwards. It's best to avoid the drama groups. But if you find the right groups, it can be amazing to think that you can ask for advice, learn from others and just talk about similar things with like-minded people.
Another way to keep it classy on social media is to use it learn how to separate yourself from it. Social media is not your identity. The amount of followers you have is not relevant to your self-worth and how wonderful of a person you are. What you read about yourself or others also does not amount to the kind of person you are. You must never take anything personally when you are on social media either, regardless of the platform because it is all the same.
Your Worth is not on Social Media
You can also separate yourself from social media is to see beyond what they want you to. It is about looking beyond the rosy colored lenses. It can make you feel like you need to compare yourself to them. Whether it's how they feel they have everything going right for them, or that they never seem stressed out and they are the perfect mom. Stop comparing (link post) yourself to anyone, but especially anyone you see on social media or the internet for that matter.
When writing about how to be classy on social media, it is also about how to remain classy despite of social media as well. If you can be classy in your everyday life, then being classy online won't be very difficult because you will know how to deal with certain situations and people.
Being Classy on Social Media – The Rules
1) Don't give in to the drama and stay away
It might be tempting to respond to someone about something you know is right, but just don't. The feeling of being right won't even matter because you will awaken a beast of people that just need to be rude in order to feel good about themselves. Even though your response might be of good natured, the others rarely see it that way and most of the time it is just a little trap to get drama started.
2) Set time limits
Yes, I know you're not a child and you don't like to waste time, however (and I say that nicely), it's almost impossible to just check on social media for a second. The strongest of will power is needed because you look at just the one thing and then you see a comment and another comment and then you check Facebook to verify it and next thing you know it's been an hour and half.
This is not to punish you, but rather to let you become aware of how fast time can go when you are surfing social media. It sometimes doesn't even make sense how fast it goes! But set a limit of 5 minutes, 10 minutes or even 25 minutes. Even if you want to spend an hour on mind numbing things, that's fine. But as a classy woman, you must also be able to separate your day into chunks and get the most important things done, and social media is really not up there in importance.
3) Don't take anything personally
This can be applied almost everywhere in life!
But if someone starts to comment on something where there seems to be no place, never take it seriously because that comment or insult is just a way to see inside the other person and see that they are feeling insecure or hurt. But don't tell them that.
Be the bigger woman and just ignore it, if you want you can say a little prayer for them or send them positive energy because you are strong enough to know that it doesn't matter what they think and you're the braver woman because you never want any person to suffer regardless of how mean they can be because in the end all we want is a little love.
4) Always end on a positive note
Even though you might not be trying to take anything personally, it's a lot easier said than done, some thoughts still fall through the cracks. So, instead of leaving social media on a negative note where you might be thinking back to it throughout the day, you should leave on a good happy note.
Sometimes this can be looking at pictures of friends, of pets or other cute animals or the endless amounts of inspirational stories that is on the internet. Sometimes I just like to listen to some upbeat music that I'm in the mood for.
Regardless of what it is that day, do something to leave the computer happy. Never let others spoil the day for you because they are never worth it.
5) Before pressing publish, think of your grandmother
Or someone else that you truly admire and lives the life that you want to emulate. Would they be happy with what you are sending? Does it sound like them? Or would you be a little embarrassed to let them know that you are saying that? Because if the answer is that they wouldn't approve then you will most likely regret doing it because it's not the elegant and classy woman that you are.
6) Be mysterious
In a world where we all live in glass bowls, it's nice to keep some things hidden from the public eye. It's not about living a secretive life, but at the same time why give other people the ability to look so deeply into your life?
Even though you might not think so, but feeling overly exposed and vulnerable to such strangers can be hurtful to your well being. The old saying is "knowledge is power" and that is exactly what you're giving others to do. So, before you send a picture of your children online or do something where you wouldn't generally want complete strangers to know, refrain from doing it.
Plus, if you are one that doesn't care, that might be the case right now, but who knows in the future that your ideas might change. Respect your future self and try not to let the whole world be too intimate with you.
7) Check yourself
No, really, check your posture right now as you are hunched over your computer or slouched over with a bent neck reading your phone. It says a lot about you and even internally to yourself as well. It's the same as wearing beautiful lingerie or drinking out of quality china tea cups. It has that ability to influence you even minutely.
When you are not sitting up straight or slouched over in bed and feeling not your best, you might do or saying something that is not of a classy woman that you trying to become because well, at the moment you don't feel it so who cares?
Well, I'll tell you that you will care.
How you treat even the smallest and private moments really influence the way that you are as a person. So next time you are surfing social media, try to check yourself on the outside and see how you are sitting or standing or what you wearing or what you are doing and that will make the difference of how you respond to others as well.
8) Never feel shy to spread love
The one thing this world needs more is love. Especially lately, many people are on edge and feeling more stressed than usual and if you have the possibility to make others feel better about themselves, then do that!
Even if it is a response to someone or commenting on how beautiful they look, try to do at least one act of kindness every time you are on social media. This will make the world a little better and not that only that but the time you spent on social media wasn't a complete waste of time because the one person that you said something nice might start a cascade effect.
Your goal on social media should be to spread love.
9) Consider other's privacy
You might not have a problem with showing yourself online, but have you asked your friends or family or even your children? Not everyone is okay with this and by posting them without any regards to their feelings is a terrible way to lose your elegance. To be honest, when it comes to children you cannot ask what they want because they don't know the true dangers of putting pictures of themselves online, so it's always good to err on the side of no.
10) If you have the gut feeling something is off, then don't do it
This might not happen often, but you know exactly what I am talking about. Sometimes when you are just about to send something or post something and you get that little feeling where it feels weird or you're just unsure, listen to it. Your gut is trying to tell you that it's not a good idea and if you ignore it then you will have this uneasy feeling which is hard to ignore.
How can social media be elegant?
This gives people the opportunity to get in contact with many people and social media can be elegant by the way you use it. Is it for good? And spreading happiness. Social media can be made for anything, so why not for elegance?
How do you look mature on social media?
It's easy to look mature on social media. The most important features to pay attention to is the images, the names, and the most important is what you are saying one them. This includes your little blurb about yourself and the content that you are filling up your profile with.
The pictures should be tasteful and not include others if they are not flattering of themselves as well. The name shouldn't be slang or something disrespectful. A name or a pseudonym is acceptable.
Your blurb or "about me" section shouldn't be too personal or too cliché. Having it cliché isn't a dead give a way that you are immature, but it is boring. Keep it light and simple. Revealing too much or trying to sound like someone you aren't is one way to signal off immaturity.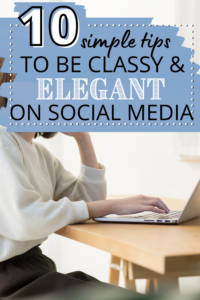 How should I behave on social media?
The same way that you are acting in real life.
Whether or not that is elegant, regardless, you should never try to be someone you are not. Saying this is not for the others that you might be lying to them, that is irrelevant, but the real problem is that it starts to hurt you and will cause you harm in the long run.
Being someone you're not is always one way to confuse you and make you upset later because you will never be the perfect version that you are trying to be. It's different when you are trying to improve yourself but if you are acting like someone you are not, then it will get exhausting to keep up the fake persona.
Behave well, be nice, never do anything to instigate rudeness or anger and just try to keep everything light. Be elegant on social media and you'll never have a problem. Even if there is a little ruffle of feathers you can easily walk away with your head held high.
In conclusion – Being Classy on Social Media
Being elegant on social media is the same as being elegant in real life, but there is a few more things to consider because even if you delete something, it can always remain there forever. It is even more important to behave better. This can be more difficult because people seem to go on social media to stir the pot and make others upset but you can be better than this. You can spread the love and make social media a little less toxic.
Social media can be used for good and when used properly with good intentions, your elegance can shine through and make it just that much better. Not to mention that your life will be better for it, it's truly a win-win!
My Courses and eBooks
​200 Ways of an Elegant Woman – similar to the 101 Ways of an Elegant Woman post, with 100 MORE tips and explanations on all 200 ways.​
​Setting New Year's Resolutions – and Actually Doing Them– great for any time of the year and wanting to achieve goals to make them your reality
​Beginner's Guide to Elegance– my FREE introductory eBook to help you live your best life
​
Social
Join the Facebook group – Elegant Living for Elegant Women– a community for women who enjoy elegant living to ask questions, share stories and learn new ways that you can add elegance to your day
Follow me on Twitter​
Get all the the info on what's coming out on my Facebook page ​
How to be Classy