Being graceful is something we all aspire to. It can make us feel more confident and elegant in our everyday lives. Here are 5 tips to help you be more graceful, which will improve your elegance! Follow these tips and you'll be able to move through your day with ease and poise. Soon enough, you'll be moving throughout your day effortlessly!
In this article, you will:
tips to be more graceful on a daily basis
why slowing down is beneficial
how grace is beautiful
walking with intention is the secret!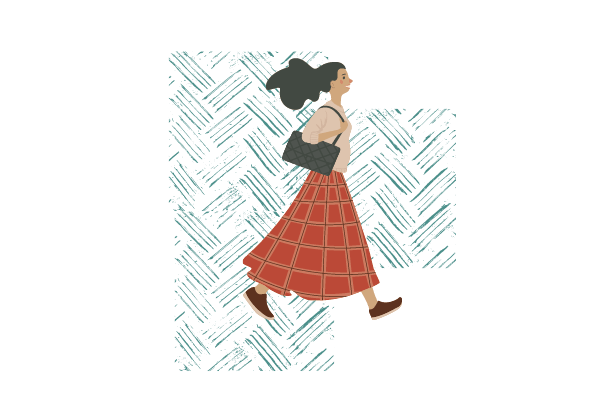 ---
Examples of Grace in Everyday Life
I know that life can be hard. Between work, family, and social obligations, it feels like we're always on the go. It's not easy to find time for ourselves in the midst of all this chaos. We're always rushing from one thing to the next without a break. But what if there was a way to make your everyday life more graceful?
What if you could find ways to move through the world with ease and poise? That is exactly what this post is talking about. I've done another "how to be graceful" article and this one is an extension of it! If you haven't read that post yet, you can check out my last article to find some extra tips.
But wait! I know what you're thinking. You don't think it's possible to be graceful in your everyday life. It seems like an impossibility- something only dancers and ballerinas could manage. Don't worry; there are ways to be more graceful in your everyday life that you might not even realize!
Try these 5 tips the next time you go out and about.
Tip #1: Slow down.
"But I'm late!"
"I don't have enough time!"
Sound familiar?
We all feel like we're always rushing from one thing to the next. When we rush, we tend to make mistakes and mishaps. Instead of rushing through your day, take a deep breath and slow down. Take time for yourself and you'll be surprised at how much better everything will turn out!
Another frustrating problem when you are rushing is that your energy becomes hurried, but not in a good way. You start to rush other people, even if you're not in a rush anymore. It becomes the way you are and that also stresses other people out. Being around someone that is always trying to get somewhere or something done in a hurried fashion can be unpleasant to be around.
Of course, there are times when you're falling behind, but try to take a slower approach. Life is beautiful and should be experienced one moment at a time.
Tip #2: Be aware of your surroundings.
It's so important to be self-aware; it will help you immeasurably!
Whenever you're walking through a crowded place, pay attention to where you're going and what else is happening around you. Try not to bump into anyone (that's always awkward) and try to look where you're going.
You're not just walking through a crowded place- you are in it! Be aware of what's happening around you and it'll be so much easier for you to walk with grace and poise than if you were rushing and bumping into everyone. Paying close attention to also important when you're considering WHO is around you.
This prevents you from saying something that could otherwise hurt someone or seem insensitive. Or, if you were not wanting to let others know about some private matter, it's good practice to know who is around you.
Tip #3: Slow down when using technology.
Technology is a great thing to have in our lives, but it can also be dangerous if we get too reliant on it. When you get home from work or school, try putting your phone away and enjoying some time with yourself before jumping back into the hustle and bustle of life.
Your phone is a technological marvel, but it can also be time-consuming and distracting. If you check your notifications every ten seconds or get on Facebook for hours on end, try putting the technology away and taking some time to yourself!
There is a serious addiction problem with constant communication. Whether it's through social media or email, don't let that dictate your life.
Be honest with yourself and find times when you avoid your phone and just be present with the ones around you.
Tip #4: Walk with intention.
Walking around like a zombie is not graceful nor is it appealing in any way to watch.
Make your movements look intentional and you'll be a lot more graceful when going from place to place!
Nobody wants to see you clumsily trip up the stairs or bump into another person without meaning to. Try walking with purpose and plan where you're going before getting there so that everything goes smoothly!
Most accidents occur when you are walking without paying attention. You might just trip on a crack in the sidewalk or get into an accident with another person. Try being more intentional when you walk so that everything goes smoothly! Walking with purpose is very elegant and is a subtle maker for confidence.
Tip #5: Practice gratitude.
Gratitude is such an important thing to have in your life. If you're not grateful for what you already have, then it's hard to be grateful for anything else that comes along your way!
If you do find yourself unhappy with the way things are going and if you find yourself dissatisfied often, try practicing gratitude for everything you have in your life.
Gratitude is a powerful thing and it can change your perspective for the better! Try to be more grateful for what you have instead of focusing on what you don't have.
You'll be so much happier if you do!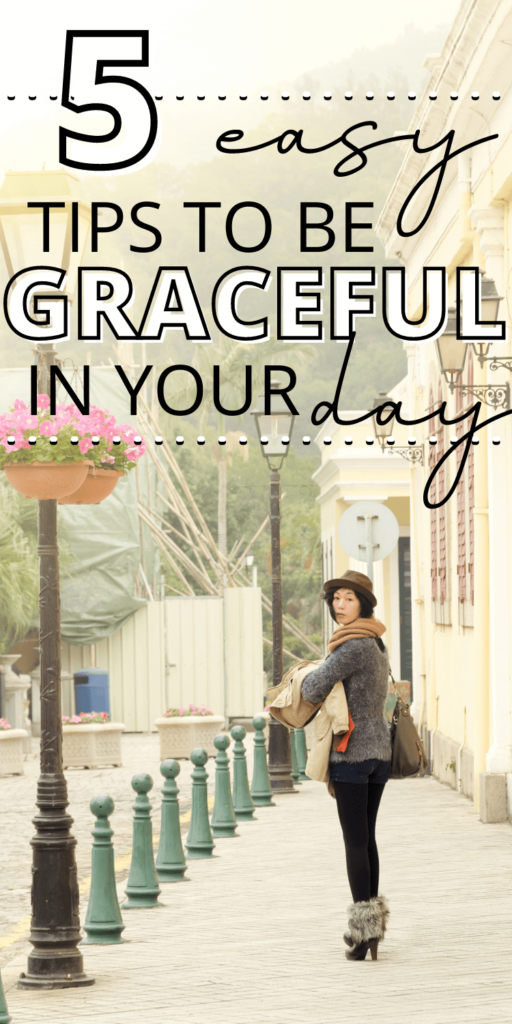 In Conclusion: Tips to be More Graceful in Your Everyday Life
There are 5 simple ways to practice being graceful in your everyday life. They will definitely make your time more enjoyable! If you can slow down, be aware of your surroundings, walk with intention, practice gratitude, and slow down when using technology, you'll find yourself happier and more graceful than ever before!
What are some places in everyday life where you find yourself rushing? How could these 5 tips help you become more graceful?