This post goes into detail about feminine empowerment and how Audrey taught modern femininity.
In this article, you'll find
How Audrey is influential
How to keep it simple and elegant
Why elegance and grace is essential
…and more!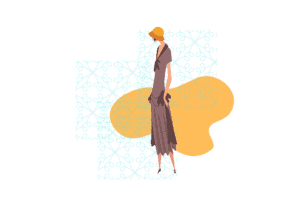 ---
What is Feminine Empowerment?
Empowerment is the process of enhancing a person's ability to achieve his or her goals. It is done through the creation of self-confidence and skills, as well as providing opportunities for active participation.
Audrey Hepburn empowered women through her iconic style, which broke boundaries and set new standards for femininity. They remain a major influence in the 21st century.
Feminine empowerment is something many women still strive for today. It's about gaining independence and strength. It's about having the ability to make your own decisions, which is what Audrey Hepburn was able to do by subverting society's expectations of her.
The admirable thing about it is she didn't force it on people. It was gently done by having expectations and also working for it. It wouldn't have worked if she demanded people to respect her.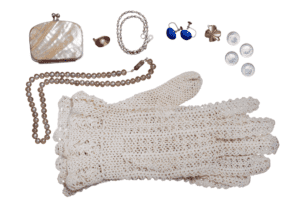 Audrey Hepburn: An Icon Of Modern Femininity
Throughout her career, Audrey strongly believed in dressing for herself and not worrying about fitting into the mold of what 'feminine' dress was supposed to look like (the perfect idea of feminine empowerment!). While the rest of society was busy playing up to men with their big skirts and stark makeup, Audrey kept it simple with straight silk trousers, t-shirt dresses, and flat shoes. She showed that beauty can be more than just one idea.
Understanding the fashion industry, Audrey knew exactly how to dress for her body shape. She regularly wore flat shoes as she was a little taller and didn't want to look even taller by wearing towering heels. In fact, most of the time it seemed that Audrey preferred flats over any other shoe style.
Even Audrey's famous basket bag was often filled with things like books or groceries – this is an excellent example of how she dressed for comfort.
Her style lives on today because of its simplicity and beauty. It's a mixture of comfort and grace without sacrificing its charm.
This is exactly what elegant women of today what to emulate. Even if it's not Audrey Hepburn, the idea of elevated elegance and poise in your daily life is what makes all the difference.
What Modern Femininity Means
Modern femininity is an attitude of being feminine in the 21st century. It also means that it can have many different looks.
In a world where traditional femininity is often seen as narrow and conventional, the idea of living authentically can feel like an elusive promise. But for me, in modern femininity, there's nothing more empowering than embracing every aspect of myself- from my hair color down to how I approach life with honesty. It has helped relieve women who don't fit into society's molds on what it means "female" or "pretty" from feeling pressured by these expectations to constantly prove themselves over again each day.
Modern femininity is not only about loving ourselves but also learning to accept ourselves for everything we can be; which can give us the freedom to live life more fully without needing permission.
This means being self-aware, being kind to oneself, seeking out opportunities for personal growth, feeling good about who you are, and developing interests that nourish your soul. Truly embracing and loving oneself.
A woman is more than just her attributes. A true lady must also have the ability to be strong, intelligent, and kind at all times without drawing attention or showing off to others. This means being able to take on difficult tasks with ease while still maintaining grace under pressure when events become challenging.
Watching Audrey Hepburn do this in her life was admirable and is a wonderful goal for other women trying to live elegant lives. She was strong and courageous but also delicate and gentle.
How Audrey Influences Modern Femininity
Audrey was more than just a pretty face, she had been through some tough times in her early life. Many people would hold onto that anger, in spite of the scarcity, it made her more aware of how cruel life can be and also how wonderful others can be when they work together.
She carried this sentiment throughout her whole life.
Known for her iconic style and roles in some of cinema's best-known films, Audrey was also a passionate humanitarian who used her fame to address difficult social issues. She was able to change the world with kindness, and it still is happening in her honor.
What Is Femininity To You And How Does Audrey Hepburn Exemplify It
I think that what someone considers to be feminine is different for everyone. Audrey Hepburn exemplified femininity in a way that made her engaging and well-loved in all areas of life. I think that being feminine is not just about looking well, but also about having good morals and being a respectful person. Audrey didn't just do what she wanted to do in Hollywood- she was polite, grateful, kind, and had the ability to apologize for any mistakes made, and was incredibly considerate.
When you think of her, what's the first image that pops into your head?
The little black dress, Givenchy. Audrey Hepburn is the girl with the black dress and pearls. She's beautiful, elegant, and feminine. I think that when people think of Audrey they often imagine that iconic look- which combined together just screams femininity!
But the reason why I think she embodies femininity is because she has many different looks. Some are classically feminine and some are not. But yet, she managed to pull them all off and looked incredible doing so.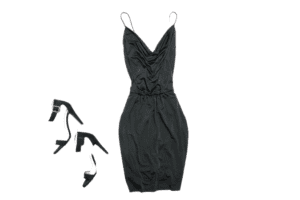 What Was Audrey's Signature Style: Was it Feminine Empowerment?
Audrey Hepburn's signature style was dressing classy and simple. She often wore dresses that were formfitting and she liked to keep her shirt or top tailored with a pencil skirt or trousers underneath.
She wore simple pumps instead of heels and she preferred to wear less revealing pieces of clothing like skirts and blouses. Audrey had a natural elegance, even off the screen!
A Few Tips for How to Dress Like Audrey:
1) Wear dresses that fit well and make you feel like a million bucks.
2) Wear flat shoes instead of heels.
3) Have fun with accessories! This is what Audrey loved to do–wear hats, scarves, sunglasses, jewelry… anything that will look good on you!
Audrey Hepburn's signature style is still influencing fashion today because she was classic. Audrey Hepburn never wore anything too flashy, but her simple dresses and blouses were tailored in flattering ways that accentuated her sexy figure (but not in an obvious way like some other Hollywood stars).
Her focus on flawlessly accessorizing every outfit is another thing that people continue to take from her. Audrey often paired a large statement necklace with her look, and she also wore oversized sunglasses. Audrey Hepburn's style was all about looking classy and feeling fabulous!
How to Dress Like Audrey:
1) Go for simple dresses such as black or white knee-length looks with simple tops.
2) Wear fitted blouses or shirts underneath dresses, and keep the buttons on top undone for a sexy look.
3) Wear your skirts with flat shoes to make yourself look more casual, in an elevated way.
4) Use accessories to bring out the classy side of you–choose jewelry that makes a statement and choose sunglasses that will make you stand out.
Audrey could pull off any look, but her style was all about looking classy. She wore simple dresses with fitted tops underneath and flat shoes to elongate her figure. Audrey matched everything well, which means that if she had a belt on one dress, she would wear the same belt with another. Audrey also paired her outfits with large statement necklaces and oversized sunglasses to look stylish without looking too flashy for the red carpet or on-screen.
To adopt her style, the biggest few secrets would be to not take yourself too seriously. Secondly, see what attributes you love and how you can dress for them and distract from your flaws. Thirdly, shy away from too much of anything.
Always refer to your classic wardrobe for clothing advice about many questions, such as what to wear to a funeral that's not black!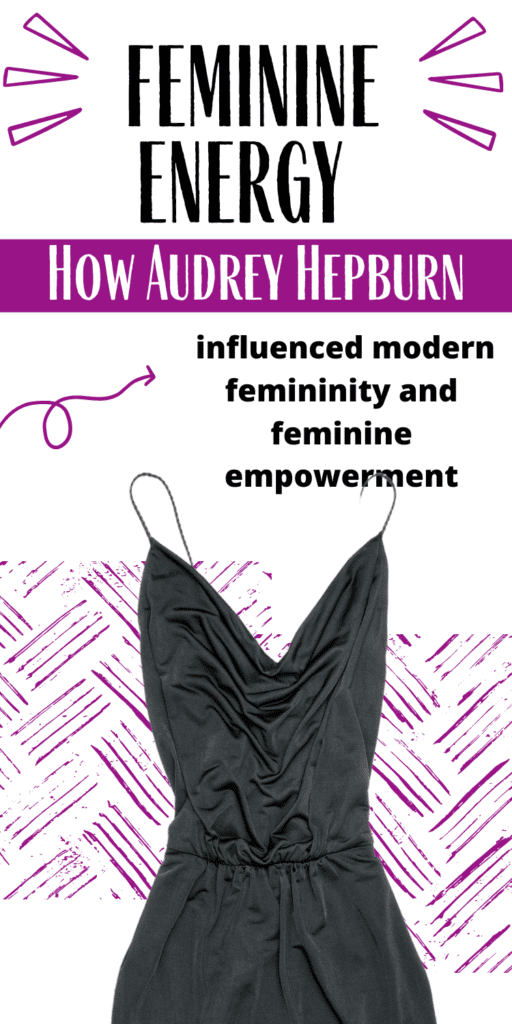 Why Her Style Is Still So Influential Today with Feminine Energy
When Audrey Hepburn walked down the red carpet, it was with grace and elegance that few actresses have matched. But it is not only her poise that has made Hepburn's images so iconic. It is also about her style. Her fashion choices were tailored to her lovely features and slender body, giving her elegant femininity that was both timeless and sophisticated.
This modern complexion of femininity can be seen in today's society, where beauty ideals are shifting away from the hourglass figure popularised by Marilyn Monroe in the 1950s to more natural looks that are often considered 'flatteringly unfeminine'. However, Instagram is slightly making it difficult because there is a fine line between real and fake.
While many people might think that Hepburn's old-fashioned beauty does not speak much to current femininity, Audrey's grace is still hugely influential in today's society. It's hard to go for long without seeing her or hearing about her influence.
Embrace Your Feminine Empowerment
The key to being a modern woman is the balance between elegant femininity and individuality. To be feminine is to highlight your best traits, while simultaneously hiding your flaws. You must also be careful not to become too girly or dress overly sexy. Audrey Hepburn knew this, which is why she always dressed in classic feminine fashion with an edge of toughness.
Be empowered by loving how you look!
Most women probably don't consciously think about embracing their feminine empowerment, but the truth is that every effort counts. The first step is to examine your past and present state of mind, so you can determine where you would like to be in the future. If you're currently disinterested in fashion, perhaps Audrey Hepburn's style will help draw your attention to the finer details that make an outfit look completely feminine.
If you already love fashion, Audrey's style will help fine-tune your sense of individuality and show you how to balance it with femininity. Either way, Audrey Hepburn is a worthy style icon to emulate.
In Conclusion, Female Empowerment is A Qualty For Living Elegantly
In conclusion, female empowerment is a wonderful quality for living an elegant lifestyle and Audrey Hepburn is a great example from which we can all derive inspiration. She was not only one Hollywood star whose look is still hugely influential today but she also had an incredible sense of style off-screen as well. From refined elegance on the red carpet to chic simplicity during downtime, this legendary beauty never lost sight of what made up true femininity: self-respect that came from within and nothing else!
Being elegant is about being sure of yourself and it starts with your confidence, self-love, and respect.
Let me know in the comments below what your favorite ideas on female empowerment are…
Female Empowerment: WHAT AUDREY HEPBURN CAN TEACH US ABOUT MODERN FEMININITY