To wear perfume properly, it starts with the proper application. Pulse points are a great place to start, such as your neck, chest, or elbow crease. This will help to keep the fragrance last longer.
But it's more than that…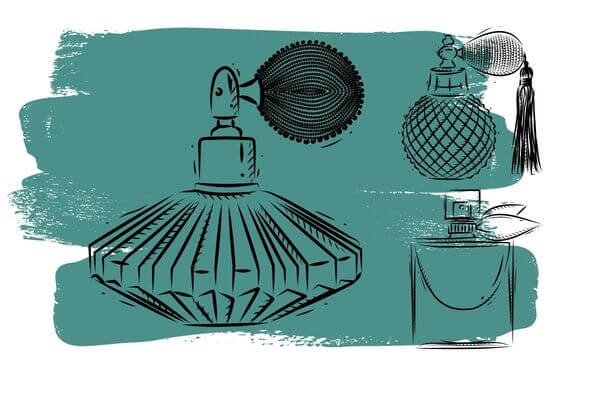 How Do You Properly Wear Perfume
Perfume is one of those things that can be a little tricky to get right – it can be easy to overdo it, or to end up with a scent that's not quite right for you. But with a little bit of know-how, you can make the most of your fragrance and enjoy its lovely aromas all day long. It's important to remember that the best way to wear your favorite fragrance is to wear it with confidence.
How to apply perfume for best results
1. Start with a clean slate: Make sure you've washed and moisturized (with an unscented moisturizer) your skin before applying perfume. This will help the scent last longer and ensures that the fragrance interacts well with your skin.
2. Find your pulse points: The places where your body emits the most heat are known as pulse points, and they're ideal for perfume application. These areas include your wrists, behind your ears, in the creases of your elbows, and at the base of your throat.
3. Go easy: When applying perfume to pulse points, it's important to use a light touch. You don't want to drench yourself in scent – a few spritzes will do.
4. Layer your fragrance: If you want your perfume to really last, consider layering it with other products from the same line. For example, if you're wearing a floral perfume, pair it with a matching body lotion or shower gel.
How Do You Properly Wear Perfume So It's Not So Strong
If you want to enjoy the scent of your perfume without overwhelming those around you, there are a few simple tips you can follow.
First, it is important to choose the right perfume for your skin type. If you have dry skin, look for a perfume with an oil base, as this will help to keep the scent from evaporating quickly. If you have sensitive skin, avoid using alcohol-based perfumes, as they can cause irritation. Instead, opt for a natural spray or solid perfume.
Next, it is important to apply your perfume correctly. Start by spraying it onto your body's pulse points, such as your wrists and neck. Then, wait a few minutes for the perfume to dry before putting on your clothes. Otherwise, the scent may become trapped in the fabric and become too strong.
Finally, keep in mind that less is more when it comes to perfume.
What are the do's and don'ts of wearing perfume?
Do: Wear a light scent that won't overpower the people around you. (this is The Golden Rule with perfume)
Don't: Wear a strong, musky scent that will make everyone else uncomfortable.
Do: Wear a scent that matches your personality.
Don't: Wear a scent that you don't like or that doesn't match your personality.
Do: Re-apply your perfume throughout the day if necessary.
Don't: Overdo it – too much perfume can be just as bad as none at all!
Do: Store your perfume properly so that it lasts longer.
Don't: Keep your perfume in a hot, sunny place, as this can cause the fragrance to degrade. (Keep out of direct sunlight and at room temperature)
Do: Experiment with different scents until you find one that you love.
Don't: Rub your wrists together. This may seem like a good way to spread the fragrance, but it actually ends up breaking down the perfume molecules and making the scent less potent.
A little pro tip
When you are trying different scents out at the store, in between the different perfumes, take a sniff of coffee beans which help to neutralize your nose so it will make it easier to detect the other unique scent of another perfume.
Some expert insight, when I was trying out some perfumes, I was told that it's important to spray on your body and wear it for a little while in order to get the true fragrance. The same perfume will react differently to everybody. You never know if any unexpected chemical reactions can lead to rashes or just an unpleasant scent.
How to make your perfume last the whole day
Many factors can affect how long your perfume lasts on your skin. For example, the chemicals in some perfumes may react differently with your body chemistry and your oils causing the scent to fade more quickly.
In addition, warm weather, heat, and humidity can also cause perfume to evaporate more rapidly. However, there are a few simple tricks that you can use to help your perfume last all day long.
First, apply a light layer of scented or unscented body lotion to your skin before applying the perfume. This will help to create a barrier between your skin and the fragrance, slowing down the evaporation process. It is even better if you can find the same scent lotion, many brands have both lotions and perfume.
In addition, avoid spraying the perfume directly onto your clothing (bare skin is always best); instead, spray it into the air and walk through the mist. This can be part of the layering technique.
Step 1: Lotion (either of the same scent or unscented lotion)
Step 2: Dab perfume
Step 3: Spray the eau de toilette
Finally, store your perfume in a cool, dark place; this will help to preserve the essential oils in the fragrance and its shelf life. By following these simple tips, you can enjoy your favorite scent all day long.
Which parts of your body should you spray with perfume
The best places to spray perfume are the pulse points on your body, such as your wrists, behind your ears, and on your neck. Try to think of the warmest parts of your body which help to release the fragrance into the air. Remember, the most popular ways aren't always the correct way.
Good spots to think of…
-Wrists
-The back of the neck
-Behind the ears
-Inner elbows
-Beneath the breasts
-In the hair
-On the ankles
-Behind the knees
-Belly button
-Top of your ears
I've also read that the best place to wear perfume is where you want to be kissed. I'm not sure if there is any scientific evidence that this is better, but it sure does sound romantic though!
A random but luxurious place for perfume is to spray a little spritz to some tissue paper and fold it nicely in your delicate drawer. Every time you open it up, it will be a delicious surprise!
What type of perfume should you wear – based on your personality and the occasion
Perfume is much more than just a way to make yourself smell good – it can also be used as a tool to enhance your personal style and create the right impression for any occasion. When choosing a perfume, it is important to consider both your personality and the occasion. If you are shy or introverted, you may want to choose a light, delicate fragrance that will not be overwhelming. For louder, more outgoing personality types, a bolder scent may be more appropriate. When it comes to occasions, it is generally best to avoid strong fragrances when attending job interviews or other professional events. However, for more casual occasions such as parties or dates, you can afford to be more daring with your choice of perfume. Ultimately, the best perfume is the one that makes you feel confident and comfortable in your own skin.
More bold and stronger perfumes:
If you're looking for a perfume with a strong, bold fragrance and more concentrated scents, here are a few of my favorites heavy perfumes:
– Chanel Coco Mademoiselle: This classic Chanel perfume has a rich, intense scent that is perfect for making a statement. It features notes of orange, jasmine, and patchouli, which come together to create a truly luxurious fragrance.
– Dior J'adore: Another timeless classic, Dior J'adore is a floral fragrance with plenty of personalities. Its keynotes include damask rose, jasmine sambac, and ylang-ylang, which combine to produce a truly intoxicating scent.
– Gucci Rush: If you're looking for a modern take on a bold perfume, Gucci Rush is an excellent choice. This heady fragrance features top notes of ginger and coriander, heart notes of jasmine and orange blossom, and a base of vanilla and patchouli. Together, these ingredients create a truly unforgettable scent.
More light and delicate perfumes:
If you prefer a lighter fragrance, here are a few of my favorites:
– Lancome Tresor: This timeless Lancome perfume is perfect for those who prefer a softer scent. It features notes of rose, lilac, and amber, which come together to create a romantic and feminine fragrance.
– Chloe Narcisse: Another great option for those who prefer a light perfume, Chloe Narcisse is a floral fragrance with a delicate scent. Its keynotes include narcissus, orange blossom, and jasmine, which combine to produce a truly beautiful fragrance.
– Nina Ricci L'Air du Temps: This classic Nina Ricci perfume is perfect for those who prefer a light, fresh scent. It features notes of rose, carnation, and peach, which come together to create a delicate and refreshing fragrance.
Although these are all beautiful scents, I'm always privy to my classic and timeless scent, Coco Chanel's Chanel No 5.
If department stores aren't available near where you live, you might need to get creative to find samples of some perfume.
I know they can be expensive, especially if you have a perfume collection, but start with one scent and treat yourself. Cheap perfumes will not work well with your body and will evaporate quickly. The main reason they are cheaper is because of the use of synthetic materials which can cause more allergies. Ain for more natural ingredients (that's what the perfume enthusiasts always say!)
What is the difference between Eau de Parfum and Eau de Toilette?
The main difference between eau de toilette and eau de parfum is the concentration of aromatic compounds, or essences, in the fragrance. Eau de toilette contains about 4-8% essences, while eau de parfum contains 8-15%.
Eau de toilette is also distinguished by its lower alcohol content, which can be as low as 30%. This makes it a lighter, more refreshing scent that evaporates more quickly than eau de parfum. Eau de parfum has a longer lasting fragrance because of its higher concentration of essences.
However, with each brand, it does vary. With more concentrated perfumes, the less you have to use.
Have you wondered why perfume bottles come in small containers?
The answer is simple – because perfume is a concentrated form of fragrance, a little goes a long way. In fact, most perfumes are designed to be worn sparingly, as too much can be overwhelming. When applying perfume, it is important to remember that less is more.
But also, because perfume starts to degrade as soon as it is exposed to air, it is important to keep your perfume in a small container to minimize oxidation. This will help to keep your perfume smelling fresh and vibrant for longer.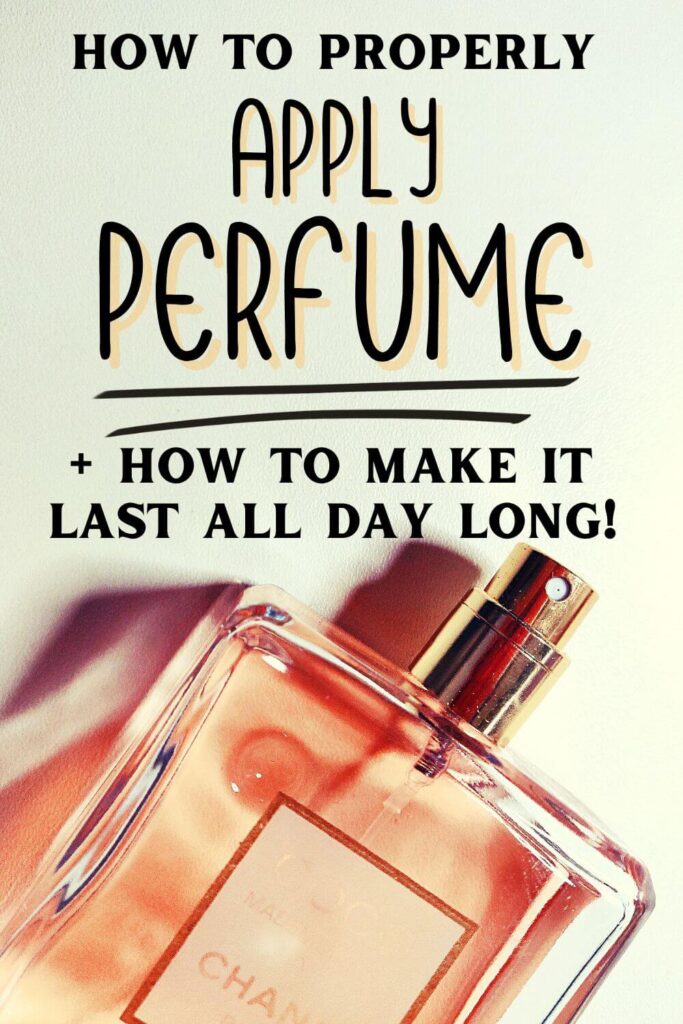 Cultivate Your Scent
As you can see, there are many factors to consider when choosing a perfume. By taking the time to find the right scent for you, you can create a signature smell that will make you feel confident and stylish in any situation. In addition, by layering your perfume with other products such as lotion or body wash, you can create a more intense scent that will last all day long. By following these simple tips, you can enjoy your favorite scent all day long.
When in doubt about what to wear, the best scent is always a clean smell.
Enjoy finding your favorite perfume, it's a special one!
How Do You Properly Wear Perfume: Here's the Answers To Make It Last