Benefits of Me Time
There are numerous benefits of making sure you get enough "me time" in your day. One that I have seen that makes a big difference is having it in the morning. This makes the rest of the day go much more smoothly because I feel that I am not trying to play catch up with myself.
Especially having three boys, husband, work and the house I feel like these moments is so important to my well being of a woman. If for some reason I slept in too much and was not able to get any "me time" in the morning, I can feel the difference in how I respond to people.
My patience is thinner, my attitude towards doing something might be a little bitter and sometimes I even feel that I deserve some quiet time when it really isn't an option at that moment. It really leads to frustration when I don't get my time in the morning.
More benefits to "me time" is that you are able to pamper yourself and feel more beautiful.
You are able to reflect on your thoughts in a way that you find enjoyable.
What you can do…
Listening to music that soothes or energizes you can make an impact on your outlook for the rest of the day.
The benefits depend on what you are doing because it can be from feeling beautiful (if you are pampering yourself like painting your nails) to feeling refreshed (if you have quiet time to yourself to read).
But the biggest benefit to having me time is that you are able to understand yourself a little bit more. This is the strongest tool you can have in your tool box to make yourself happy.
When you start to learn and accept that you are the kind of person you are, and understand what you need to make yourself feel one hundred percent — you can tap into that often and make every day just that much better.
Making Time for Yourself
Making time for yourself is one of the biggest hurdles that many busy women face. Sometimes they don't even have time to go to the washroom by themselves, yet they have to make time for me time?
It doesn't sound almost impossible and perhaps at certain life stages, it can be really challenging.
However, one thing women excel at is to adapt!
When you are realistic with your life circumstances at the moment, you are able to truly squeeze out time. Whether that is when you are breastfeeding and the baby is just quietly feeding. Listening to music while doing dishes. Or reading a book, and simply embracing the quiet.
It's all about perception and willingness.
Spending time in the car becomes one that is a little sanctuary.
The morning walk is the twenty minutes you cherish and look forward to.
When I am struggling to find the time, I remember that every single person that has ever lived has had the same amount in the day as myself to get everything done. People have accomplished so much in the same 24 hours that I have now and there is always time.
There are many little moments that you can add your "me time" to. It might not be the most ideal and you won't do everything you might want. However, change your attitude and it will change your life.
"I Need Some Me Time"
When you tell yourself "I need some me time" then you should know that it is something you find important and that is when you should start looking at your calendar.
Like I already mentioned, it doesn't need to be the traditional options.
Find what really speaks to you and adapt it. It won't last forever because even you evolve into something different. The me time is no exception.
The most vital part to needing some me time is to start with it today.
Take 5 minutes with yourself and do something that expresses your creativity.
I always tell women to start there.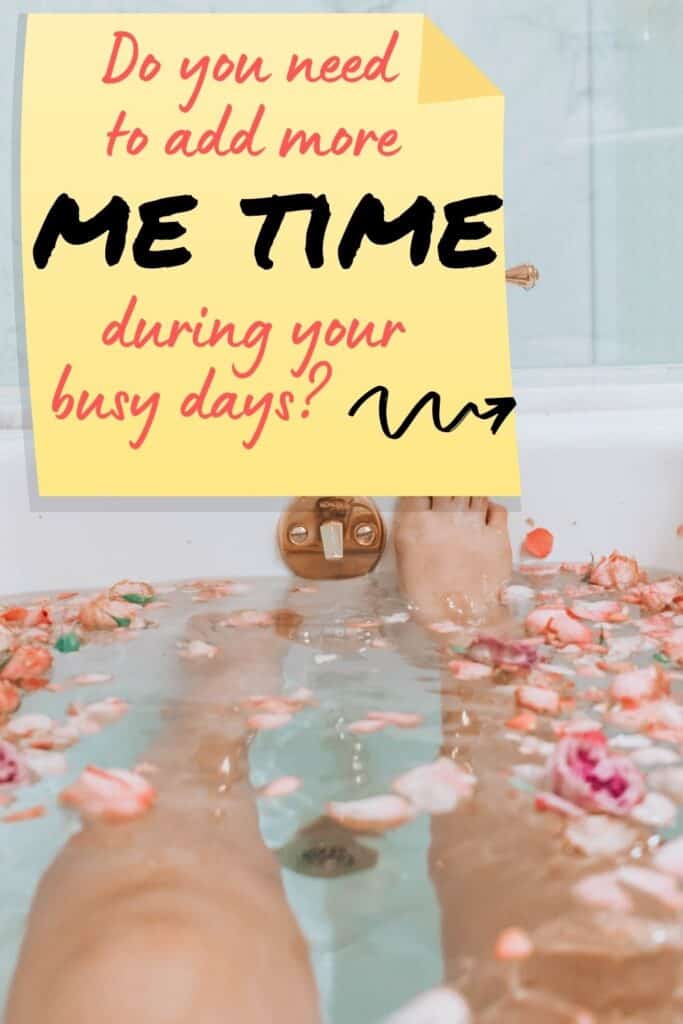 What is this Time?
You might be wondering, what is it exactly?
And there are many answers on the web, especially they like to focus on taking long baths and going to get a massage.
While those are very nice and are pleasant, it doesn't mean that they are the only ones.
This time is essentially any time that you can take for yourself that will leave you feeling a little more refreshed and better than you did going into it.
It's important that you realize that it doesn't need to be so extravagant because if that's the case, you never will have a good "me time". You will always be waiting to pencil it in into your calendar. It doesn't need to be that way.
Little moments add up.
Frequently Asked Questions
What is a me time?
"Me time" is the time where you are able to focus on yourself whether that's pampering writing or other ways that you can make yourself feel free. It has become a lot more popular in the last while because as women, we work ourselves very hard most of us have both families and careers and to be able to juggle both of those can be quite exhausting. It's simply time that you have by and for yourself this can last between a couple minutes to a whole day if you need it and if you're able to have it.
Is it good to have me time?
Not only is a good to have me time but it's quite essential for a living and elegant life. It doesn't need to be elaborate or you have to have a whole day to yourself but "me time" is simply just allowing yourself to be quiet and rest for a couple minutes. It's a really good idea to pencil in me time at least once a day and then having something a little bit bigger at least once a week.
This helps you look forward to those moments as well for me it could be just a cup of coffee in the morning that's quiet but it does so much for my well-being. Another option is for me decorating making the room beautiful that could be just taking away the clutter quietly and at my own pace without being rushed.
Making something beautiful can be the perfect "me time".
Spring Clean Your Life Series:
My Shop
The eBook : ​200 Ways of an Elegant Woman – similar to the 101 Ways of an Elegant Woman post, with 100 MORE tips and explanations on all 200 ways.
Course for setting goals! ​Setting New Year's Resolutions – and Actually Doing Them– great for any time of the year and wanting to achieve goals to make them your reality
Free eBook to get started! ​Beginner's Guide to Elegance– my FREE introductory eBook to help you live your best life
​
Social
Join the Facebook group – Elegant Living for Elegant Women– a community for women who enjoy elegant living to ask questions, share stories and learn new ways that you can add elegance to your day and every weekday morning there is an Elegant Lesson video!
Follow me on Twitter
---
I hope you have been enjoying this series so far! I have been loving my spring cleaning journey and hope you have too! Bettering yourself truly makes all the difference to living the life you want.
Talk to you tomorrow,